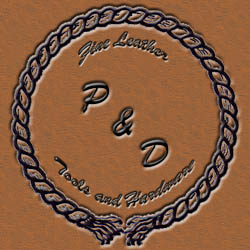 We are THE source for all your Leather Needs!

STARTER KITS LACING & STITCHING SUPPLIES
JEWELRY & FASHION SUPPLIES ALL TYPES OF LEATHER
NATIVE AMERICAN CRAFT SUPPLIES LEATHER DYES
LEATHER CRAFT SUPPLIES COWHIDE & SHEEPSKIN RUGS
HARDWARE & TOOLS PRE-MADE PRODUCTS



VISIT OUR SHOWROOM AT 2930 NORTH 1ST STREET
ABILENE,TEXAS 79603

PHONE (915) 673-4526 FAX (915) 673-3119 TOLL-FREE 1-877-771-7107
EMAIL: pate@abilene.com

Call or email us to request our new 132 page full-color catalog for only $5.00
(refunded with first order over $20)

We also offer a variety of instructional classes to our local customers. Call for details.

Free counters by Honesty.


This site is best viewed with
IE 4.0 or later with a screen
resolution of 800 X 600.



Last updated on June 22, 2000 04:19 PM
Copyrightę P&D Leather and Crafts
January 2000
Webmaster inquiries: webmaster@mrfloyds.com