Books, books and more books!! We have HUNDREDS of books and patterns!!
From Saddle and Belt books to Indian design and beads to Hemp and Celtic Art books,
we have more books than you would think! We even carry the Stohlman Encyclopedia
of Saddlemaking......a three volume set! Basketweaving, Holster patterns, Alphabet
patterns, Lacing & Stitching, Sewing with Leather, Books on sharpening tools, Saddle
Bags, MOTORCYCLE accessories, Chap patterns, we even have books on braiding
with horsehair! Order our 132 page FULL-COLOR catalog and see for yourself!!
Catalog only $5 (refunded with first order of $20 or more)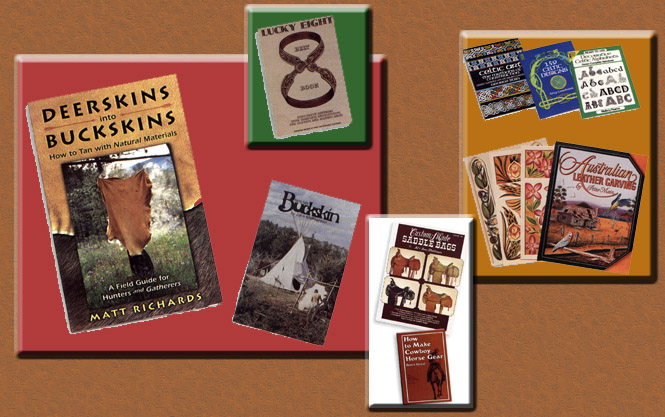 Tip - Water spots can stain natural leather. If a
corner of your leather project happens to lie on a
wet sponge or if spots of water happen to soak the
surface, moisten the entire surface and then apply
more moisture to the spots and fade the moisture
out into the surrounding areas. Apply enough water
to the spots so they are no longer visible. Usually,
when the leather dries, the spots will have vanished.